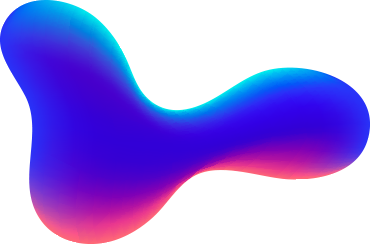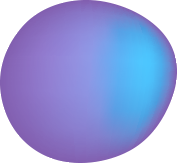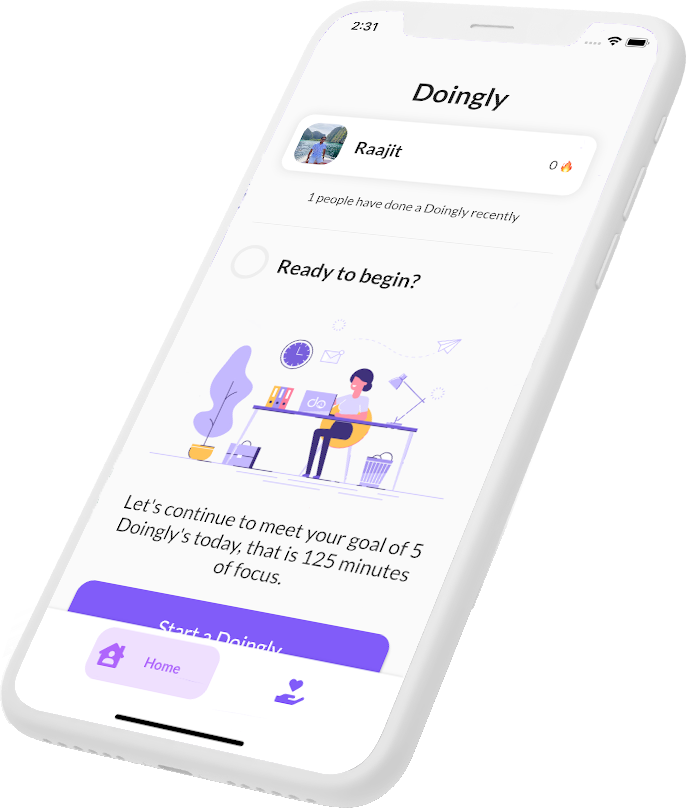 Make your productivity count!
Doingly helps you focus better whilst raising money on your behalf for charities in need. The more you focus on a task the more money you raise for a cause of your choice.
Doingly helps you stay focused on a task whilst simultaneously raising money for charity on your behalf
We live in a world where stress is common and is often inevitable and if not managed well, this stress can lead to unproductivity. There are many good causes that are in need of financial aid but are often overlooked.
Prevent Procrastination

Doingly prevents you from getting distracted by not allowing you to escape the app when completing a 25-minute session.

Enable Positive Change

Get the gratifying feeling of contributing to charities whilst ticking things off your own to-do list

Boost Motivation Levels

The combination of increasing your productivity and contributing to charity will surely increase your motivation
900
Dollars Raised for Charities
Users love Doingly for keeping them focused!
Doingly has the tools you need to enhance your experience and stay productive
Pomodoro Timer
Focus sessions are split into 25-minute chunks, giving you the flexibility to take a 5-minute break in between.
Leaderboard
Get that competitive edge and compete with fellow users on who can do the most Doinglys.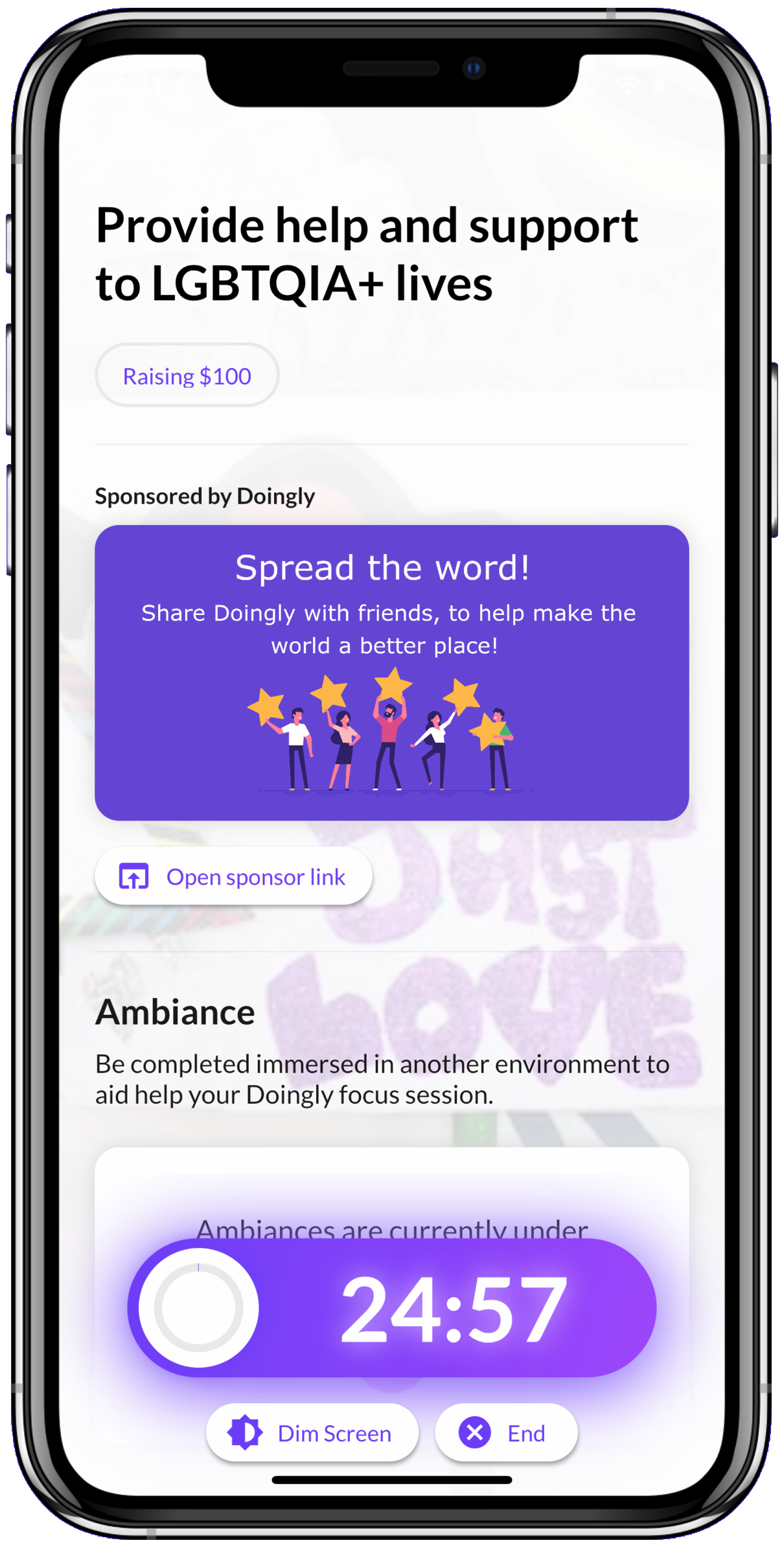 Raise money for Charity
Each Doingly is converted into monetary donations for a charity of your choice
Group Doinglys
Raise money for charity together! Doingly groups lets you and your colleagues, friends or family to focus together.
Doingly allows you to increase your productivity and make a difference in society in three simple steps!
Charities on Doingly
Doingly is currently supporting a range of charities which you can choose to support who all have a unique focus.
Charity profiles are split into categories which are:
Health Charities: Having good health is a fundamental human right. Make your efforts count towards supporting the sick and disabled as well as medical researchers. 
Helping the Less Fortunate: Contribute your efforts to charity causes which lend a helping hand to those who are without a home and disadvantaged 
Social Justice: Put your Doinglys to use in delivering justice and social support. 
Empowering through Education: Pave the way for students of all ages to have access to educational services so they may find their love for learning and unlock their full potential.
Environment & Animal Welfare: Convert your productivity into promoting the protection and welfare of animals and the preservation of the world we live in

Do Doinglys
A Doingly is essentially a 25-minute interval which you complete by focusing on a task (studying or working) followed by a 5-minute break
The whole idea of working in intervals is based on the Pomodoro Study Technique which was discovered by Francesco Cirillo in the late 1980s
Benefits of working in intervals:
Eases you into large amounts of work 

Manages distractions

Maintains motivation

Decreases mental fatigue and burn outs 

Allows you to focus
Your Contributions
Each charity profile's fundraiser has a target amount which requires a set amount of Doinglys to complete by users.
Once the target amount is met, 100% of all fundraiser money will be donated by sponsors to the respective charity.
If your company is interested in sponsoring a fundraiser to support a charity and market your brand, then please get in touch with us on appdoingly@gmail.com
See what the app looks like
Designed with user experience in mind.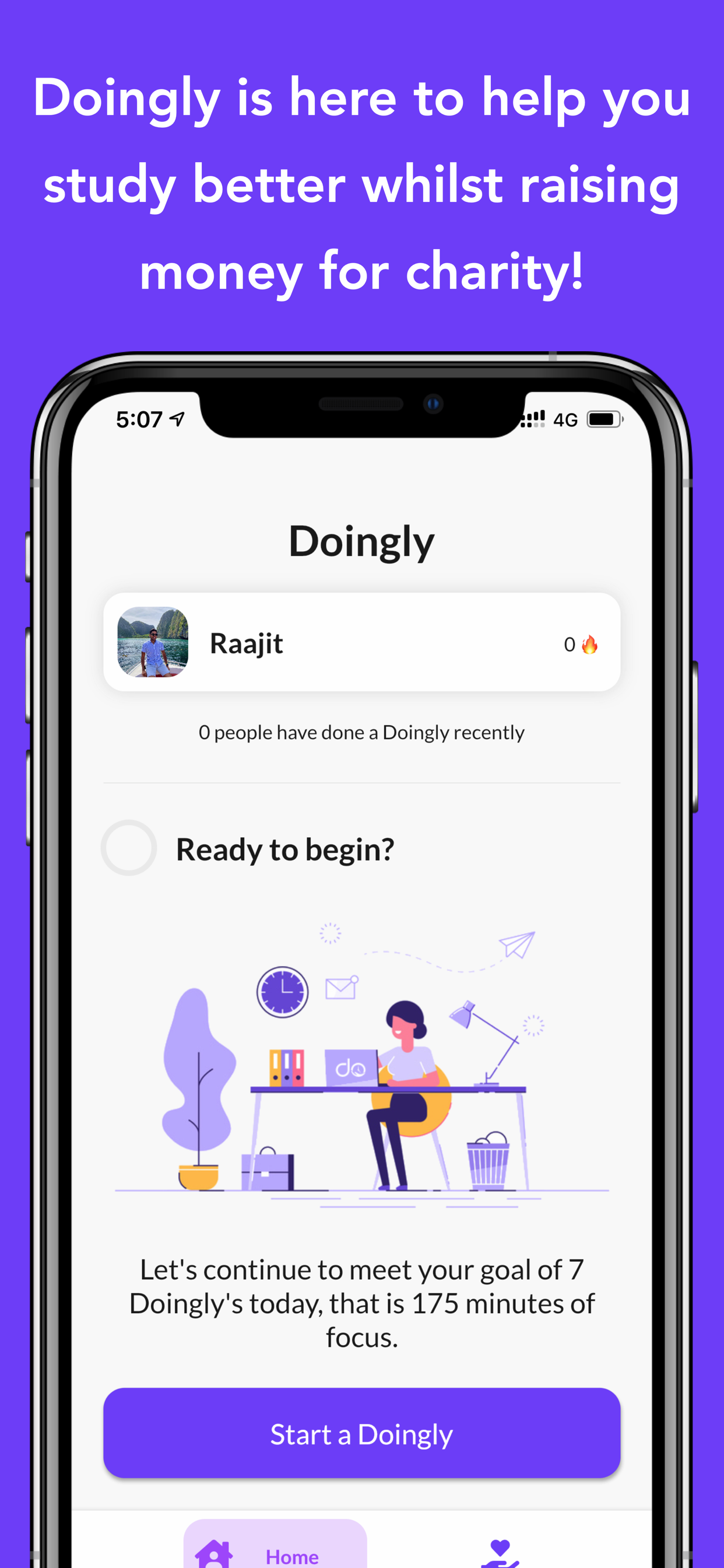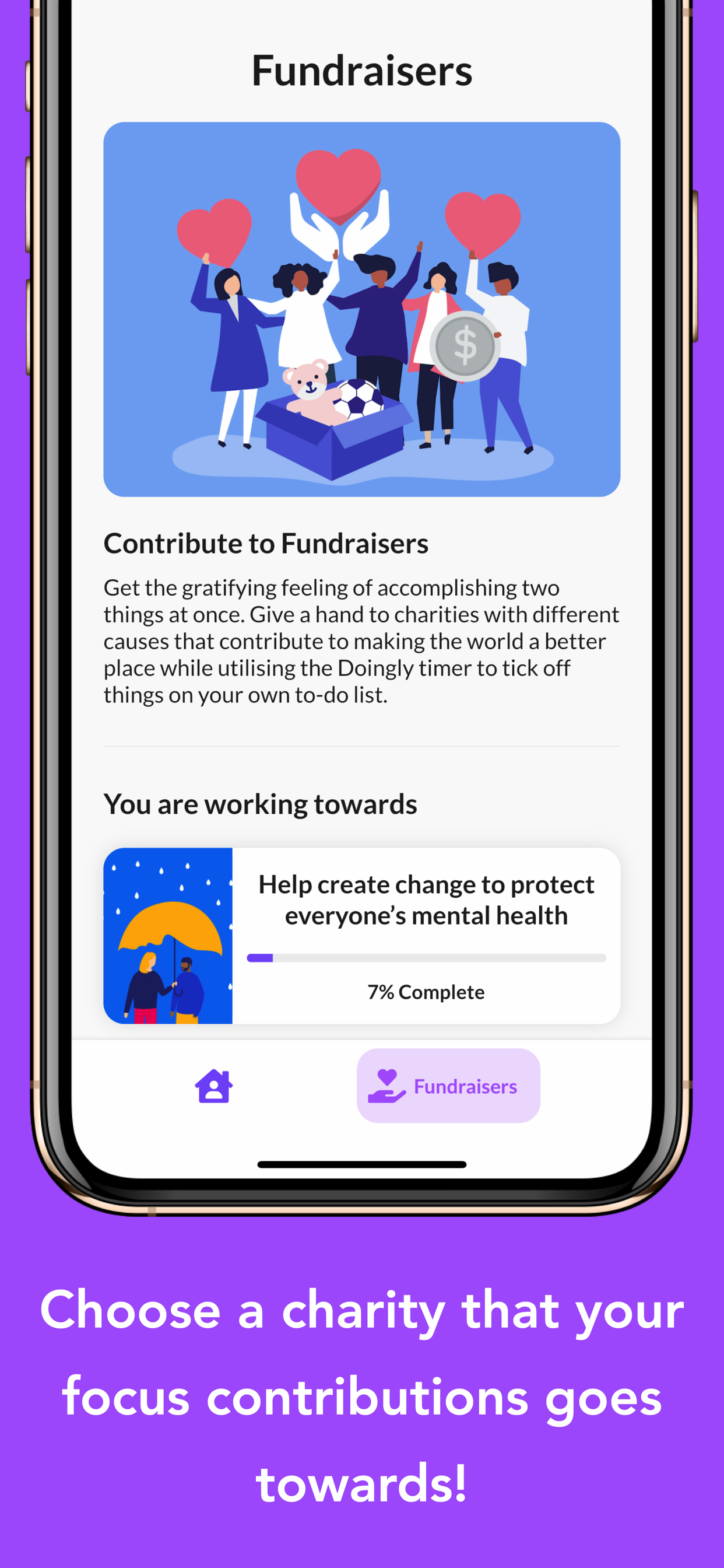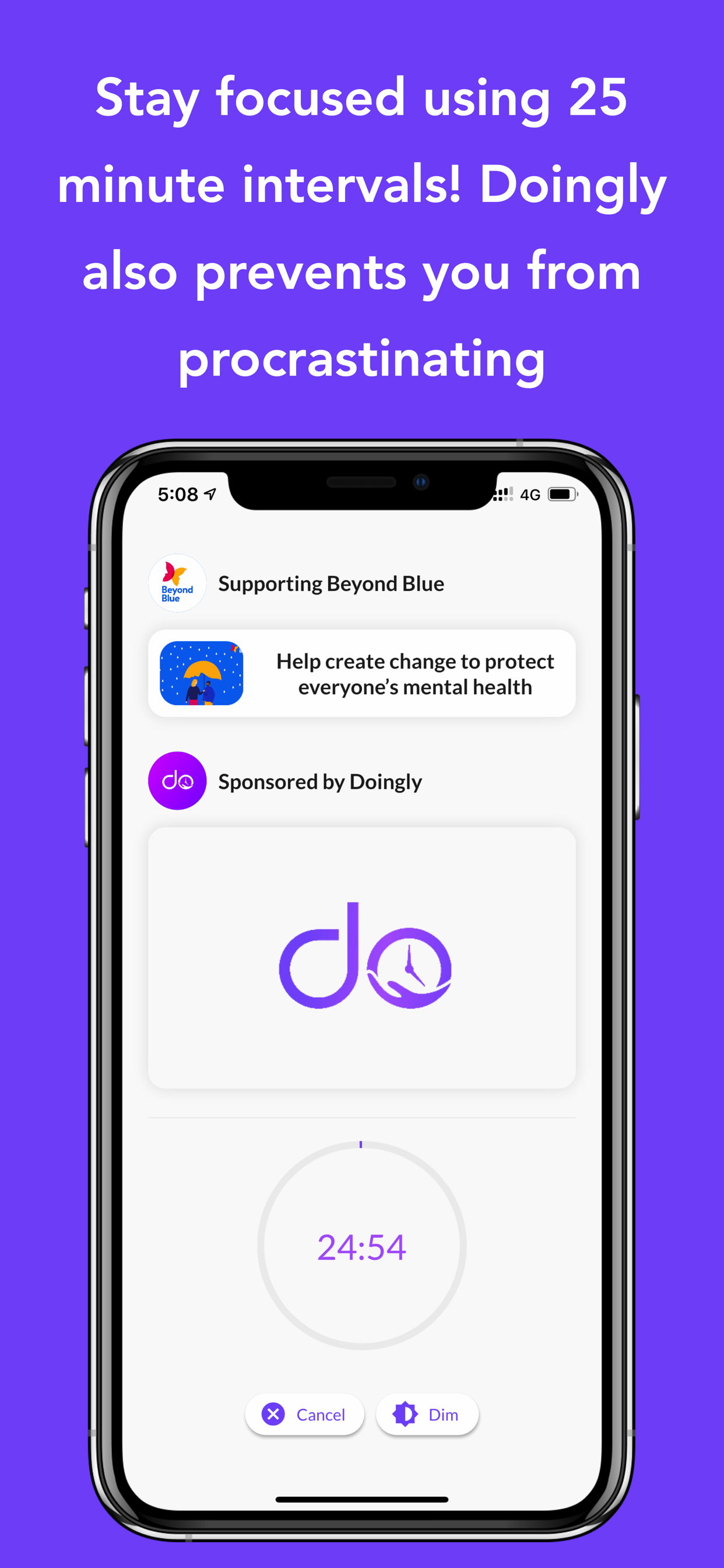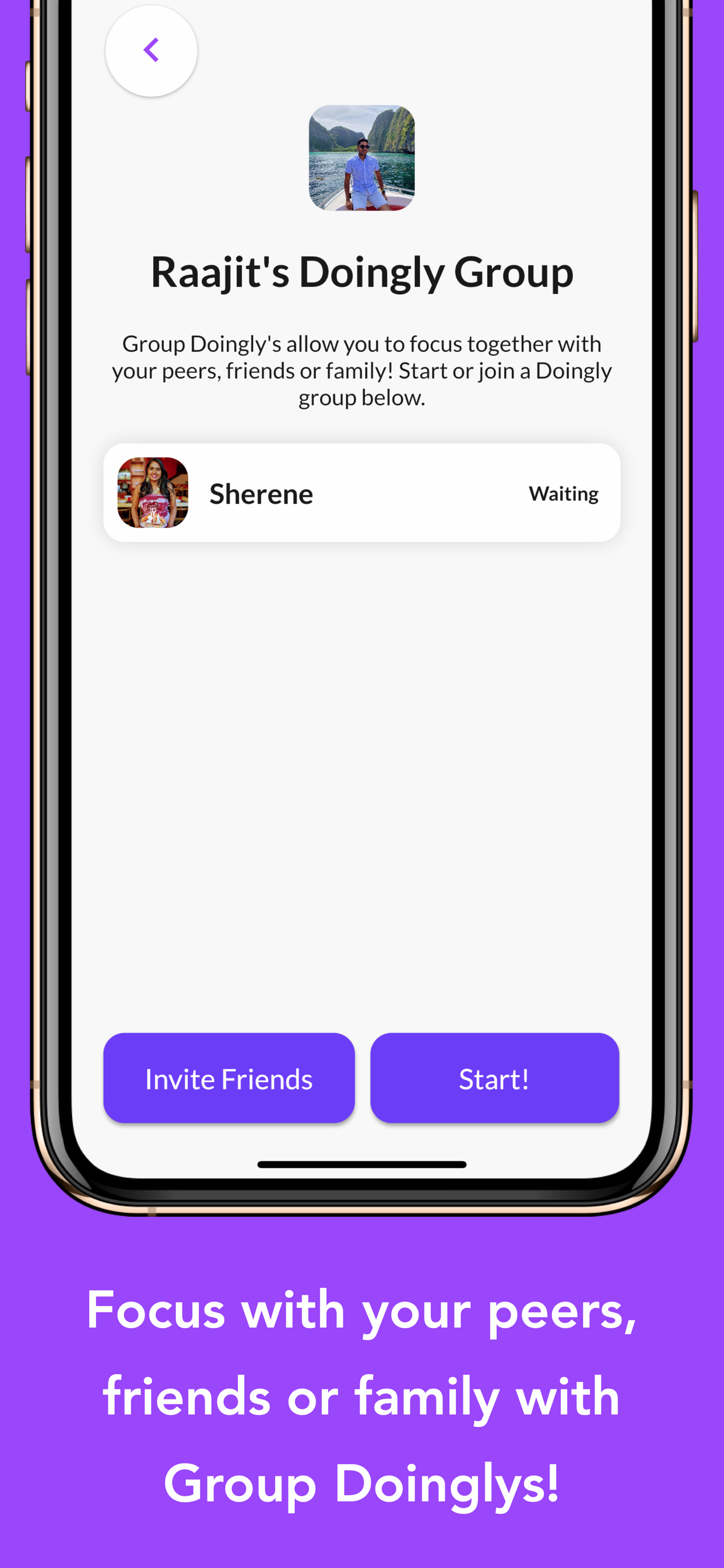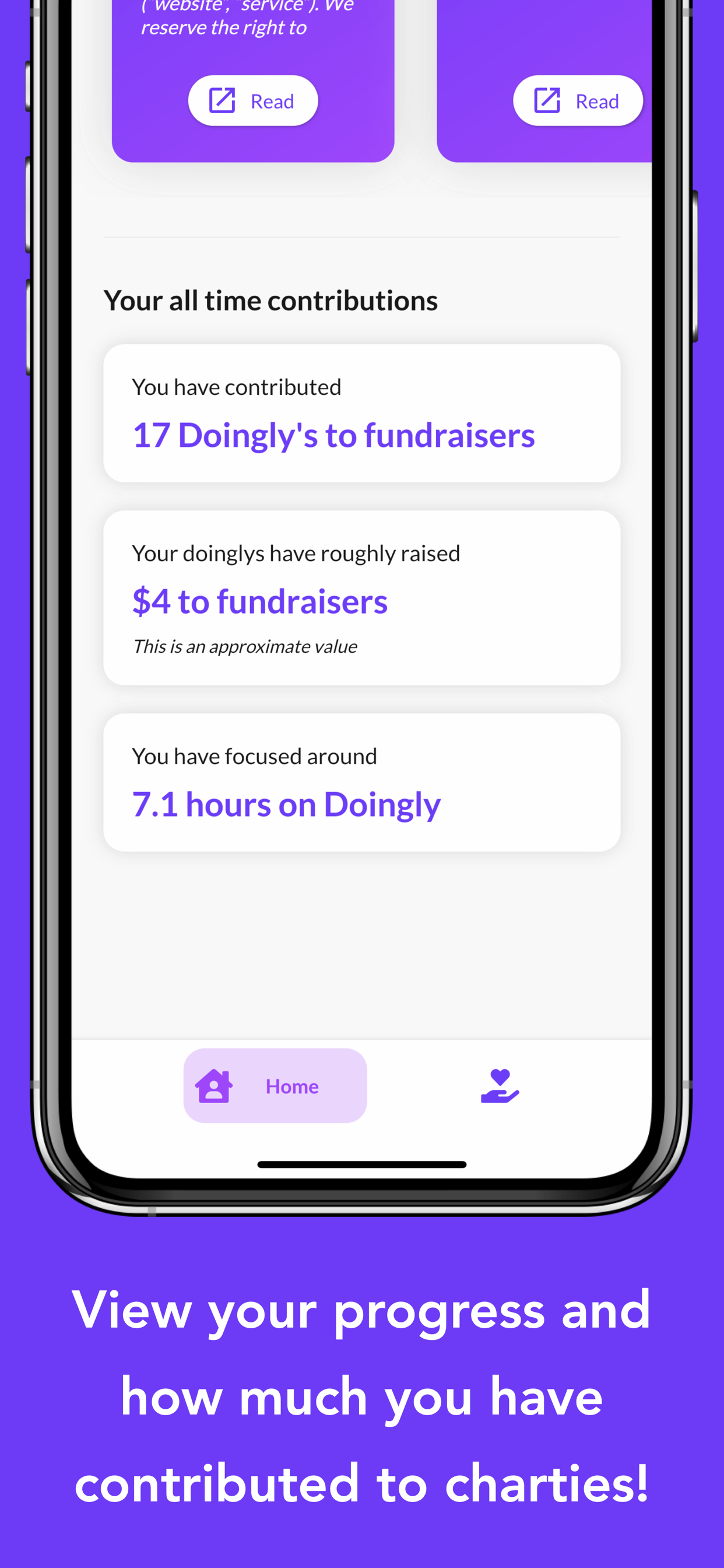 We know Doingly will make a positive impact for our users and charities! Check out what some users have said so far.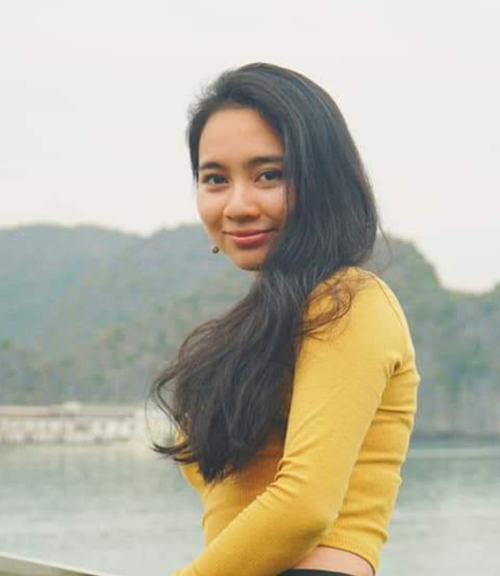 Definitely worth a try! Simple, yet very effective for daily uses. Also it has a 'dim feature' to save your phone battery while you're using the app, which I love. Will definitely be using this app daily to keep myself accountable and productive!!!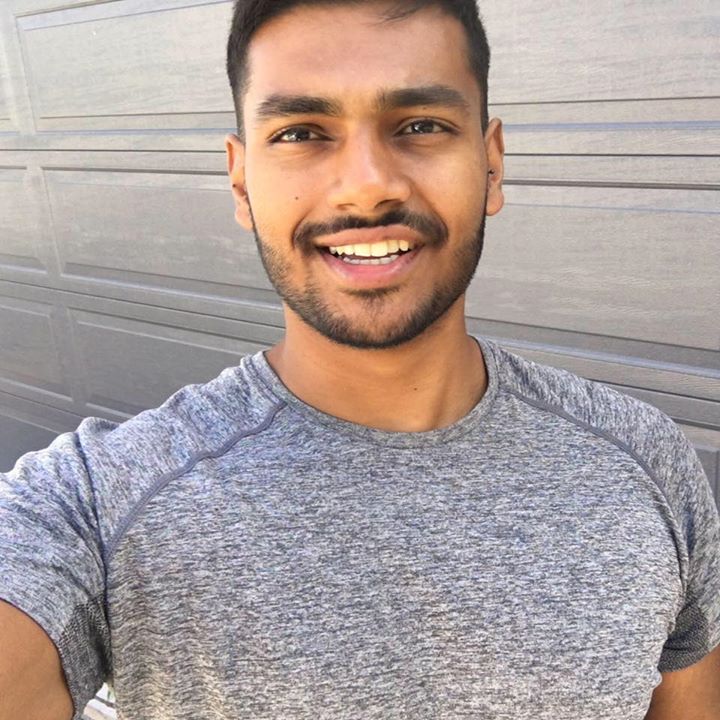 My biggest problem with other focus apps, there is no real reward for focusing. Now, I'm forced to focus a little longer knowing I'm supporting a REAL cause. Not just some stupid app trophy. Love this!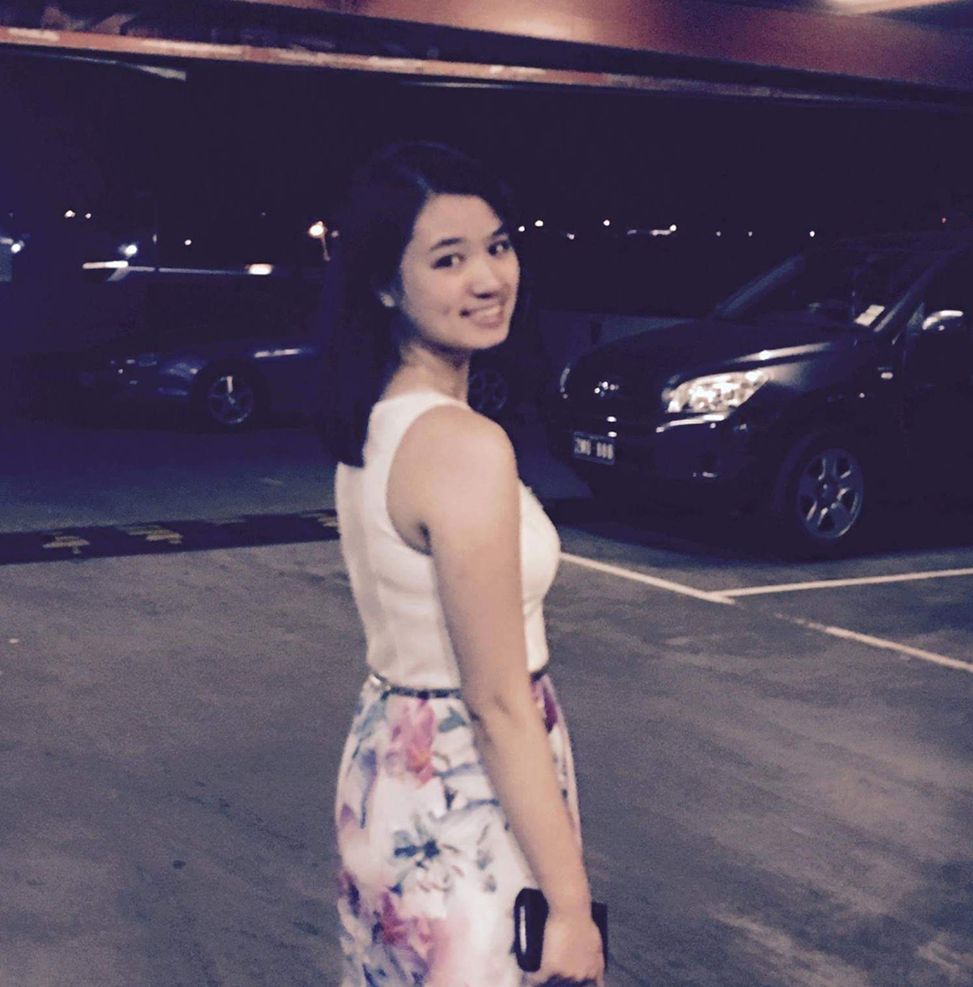 I love the app!! It feels really great and rewarding to know that for each 25 minutes that I focus, money is going towards a good cause. As someone who had never used the Pomodoro study technique before downloading this, I am already experiencing improvements in focus and concentration. I sometimes forget to step away from my desk so using this app is a great reminder to relax and refresh. Definitely recommend.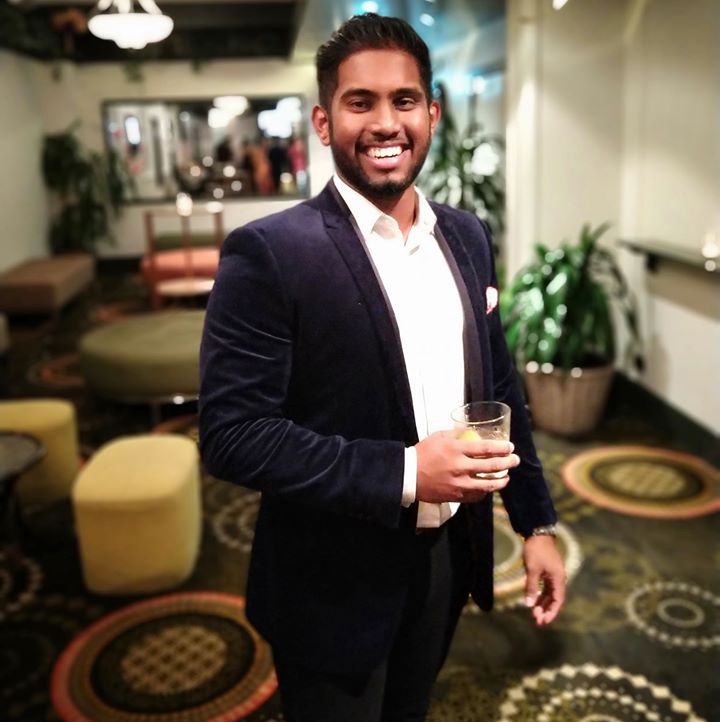 Fantastic app for a great cause! Great work to the team for this development!!
Doingly is free at no cost to you
Doingly is free to download! All the money you raise from Doingly contributions comes from our sponsors!
The team behind Doingly have worked tireless hours to bring our vision to life! We hope that Doingly will make a positive impact for our users, sponsors and charities.
Available for all platforms
Thank you for downloading Doingly and contributing your efforts to making the world a better place! We hope you have a productive time with us!
Got a question? Drop us an email at: appdoingly@gmail.com